TOKYO, Jan 30, 2023 – (JCN Newswire via SEAPRWire.com) – Yokohama National University, NTT DOCOMO, INC., NIHON DENGYO KOSAKU Co., Ltd. and Fujitsu Ltd. announced today that they successfully demonstrated a 5G indoor base station incorporating a multisector antenna using the 28GHz band on January 27. The device, which incorporates circuitry just 1/10th the size of a conventional indoor base station, is extra small for easy installation, minimizes energy consumption and achieves highly efficient signal propagation, all of which will contribute to the realization of high-quality connectivity indoors.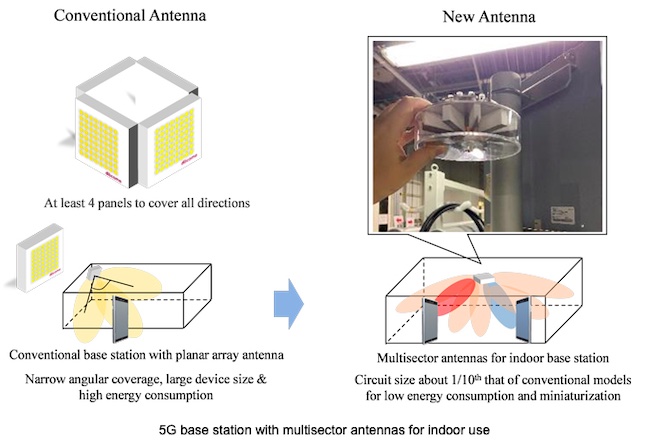 The demonstration, in which a conventional 5G base station control unit communicated with the new device via a 28GHz signal, confirmed that a single multisector antenna can receive radio waves in all directions using radio beam control. DOCOMO previously measured the directivity of a single element in a multisector antenna in 2022, but the DOCOMO believes that this was the world's first demonstration to use a multisector antenna in a 5G base station equipped for radio beam control.
A multisector antenna divides its surrounding 360-degree space into multiple areas (sectors) for transmitting and receiving radio waves simultaneously and independently in each sector. The antenna used in the demonstration contained 12 directional elements arranged in a radial pattern, each of which effectively transmitted and received radio waves in a specific direction. A Yagi-Uda antenna developed originally for television broadcasting was deployed for the high-frequency band. Conventionally, multiple multielement planar-array antennas are required to propagate high-frequency radio waves to all areas of an indoor environment, requiring large circuitry that consumes significant amounts of energy and demands ample space for installation.
By using 5G-standardized beam-switching technology, however, the newly demonstrated multisector antenna incorporated in a small base station managed to achieve high gain in all directions with minimized energy consumption. Installing the envisioned device on ceilings will help to deliver high-frequency radio waves effectively throughout each room, thus reducing the number of base stations needed to construct high-quality indoor communication environments.
High-frequency radio waves have strong linearity and their strength tends to diminish easily, making it difficult to deliver such waves over wide areas. Conventionally, four or more base station antennas are required to transmit radio waves in all directions in a room, but the recent demonstration has now shown that just one multisector antenna can handle the task.
Going forward, DOCOMO plans to conduct verification tests using the new base station in various indoor environments, based on which it intends to finalize the antenna circuitry and incorproate it in commercial base stations for the establishment of high-quality indoor communication environments at a reduced cost. In addition, the Yokohama National University, DOCOMO, NIHON DENGYO KOSAKU and Fujitsu will work towards 5G Evolution & 6G in order to achieve compatibility with future mobile networks' high-frequency millimeter and terahertz waves for the further enhancement of indoor connectivity.
DOCOMO will introduce these initiatives at docomo Open House '23, which will be held online from Thursday, February 2.
For more information, visit www.docomo.ne.jp/english/info/media_center/pr/2023/0130_01.html
About Yokohama National University
YOKOHAMA National University (YNU) is a Japanese national university founded in 1949. YNU provides students with a practical education utilizing the wide expertise of its faculty and facilitates engagement with the global community. YNU's strength in the academic research of practical application sciences leads to high-impact publications and contributes to international scientific research and the global society. For more information, please see: www.ynu.ac.jp/english/
About NTT DOCOMO
NTT DOCOMO, Japan's leading mobile operator with over 85 million subscriptions, is one of the world's foremost contributors to 3G, 4G and 5G mobile network technologies. Beyond core communications services, DOCOMO is challenging new frontiers in collaboration with a growing number of entities ("+d" partners), creating exciting and convenient value-added services that change the way people live and work. Under a medium-term plan toward 2020 and beyond, DOCOMO is pioneering a leading-edge 5G network to facilitate innovative services that will amaze and inspire customers beyond their expectations. www.docomo.ne.jp/english/.
About DENGYO
DENGYO was founded to enrich the future through better use of radio waves. For decades, our pursuit of cutting-edge innovation has resulted in the development of wireless technology that meets the highest performance standards while consolidating space and equipment.New windowhttps://global.den-gyo.com/
About Fujitsu
Fujitsu's purpose is to make the world more sustainable by building trust in society through innovation. As the digital transformation partner of choice for customers in over 100 countries, our 124,000 employees work to resolve some of the greatest challenges facing humanity. Our range of services and solutions draw on five key technologies: Computing, Networks, AI, Data & Security, and Converging Technologies, which we bring together to deliver sustainability transformation. Fujitsu Limited (TSE:6702) reported consolidated revenues of 3.6 trillion yen (US$32 billion) for the fiscal year ended March 31, 2022 and remains the top digital services company in Japan by market share. Find out more: www.fujitsu.com.
Copyright 2023 JCN Newswire. All rights reserved. (via SEAPRWire)